Blog
Shake Off Those Winter Blahs with These Indoor Pet Activities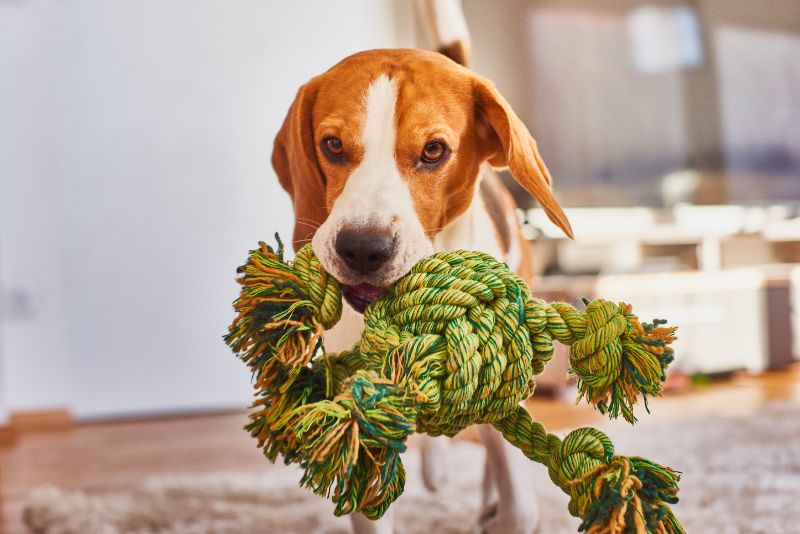 As much as we may want to, it's not healthy to hibernate on the couch all winter. Not surprisingly, it's not good for your pet, either. Unfortunately, when the dark, cold days keep us indoors, we have to be creative and find interesting ways to stay fit, engaged, and active with our four-legged friends. 

Your team at Ten West Bird and Animal Hospital have a few of our favorite ideas for keeping you and your pet moving indoors. This way, old man winter won't keep you and your furry, feathered, or scaled one down!
10 Fun and Creative Indoor Pet Activities
Having fun with your pet doesn't need to mean a lot of money or travel time. These awesome indoor pet activities will chase away the winter slump and get your pet moving.

Let the music play – Put on some upbeat music or your favorite playlist. Move the furniture back and dance! Your pet will probably want to get into the groove by jumping, running around, bopping their head, and playing with you. Your enthusiasm and the good tunes will get them energized too.
The nose knows – Treat your pet to some "nose games" by placing small treats around the home. This will allow them to sleuth out the rewards. Make it more and more challenging as they get used to the game.
Reward puzzles – Food puzzles for pets are trendy these days. Food puzzles work by keeping a meal or treat inside the puzzle for your pet to uncover. Each puzzle can be easy or more intermediate, depending on which one you choose and how hard you want your pet to work for it. For fast eaters, these are especially useful for feeding meals.
Volunteer time – If your pet is well behaved and socialized, look for opportunities you can volunteer with them. Look for pet friendly opportunities at senior centers or animal nonprofits, or other suitable charities that encourage your pet to attend.
Bake or make toys – Get your pet involved, and whip up a favorite recipe for tasty, healthy treats. They will be more than happy to be the taste tester. If you want to avoid extra calories, try sewing some simple pet toys for your furry loved one and give it to them for playtime.
Agility course – Put together an agility course for your four-legged friend by using aerobic steps, baby gates, kiddie pool filled with balls, tubes, and other items. If your fur friend is a kitty, you can encourage them to run by creating extra secure shelves and bookcases, or buy more cubes and cat trees.
Go shopping – Many socialized pets love to go shopping with their people. A quick trip to the mall can turn into ample exercise for you and your furry one. Laps around the mall or other indoor shopping centers can provide the exercise you need. You can also take your pet to their favorite pet supply store to choose a new toy or two.
Play fetch on the stairs – Stair walking is an awesome aerobic exercise for your pet. Throw a toy or ball up and down steps for a good workout. You can also join them if you need to increase your steps per day.
Indoor treadmill – If you have a treadmill, you can train your cat or dog to walk with you at a reasonable pace on a leash. When the temps are too cold to walk outdoors, this is another option for beating those winter blahs. Small small mammals and birds will be happy with something new they can exercise in, too, like a wheel or swing.
Swap out toys – Is your cat tired of their cat tree? Has your dog exhausted the old chew toy? Or your other small mammal or bird no longer interested in their old stuff? Go through all of your pet's toys and get rid of the ones they have used up or are no longer interested in and find great new items.
Despite Old Man Winter's grasp, you and your pal can still maintain their energetic fun with some creative ideas for winter indoor activities for pets. If you would like additional suggestions for indoor fun, please give then Ten West Bird & Animal Hospital team a call.