Meet Our Staff
Veterinarians
Dr. Barbara Powers
DVM / Owner
Dr. Barbara Powers has practiced in San Antonio since she graduated from Veterinary College at Texas A&M in 1983. She is a member of the American Veterinary Medical Association, American Animal Hospital Association, Association of Feline Practitioners, American Association of Avian Veterinarians, and is an Exotic DVM. Dr. Powers believes every animal deserves a loving home and, to help achieve this goal, Dr. Powers donates her time and services to help homeless pets through Stray Cat Adoption of Texas (SCAT) and San Antonio Doberman Rescue.

She lives with her husband, Joseph Piercy, and their two great kids. Her pet family includes two spaniels, Pell Mell and Tumble Bumble; two cats, Fluffy and Bad Wolf; cockatiel Lemon; and several canaries.
Dr. Justin Harper
DVM, Dipl. ACVS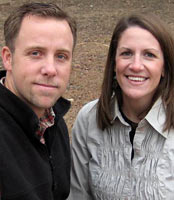 Dr. Harper provides in-house select surgical services for our clients and their patients at Ten West Bird and Animal Hospital. Dr. Harper, originally from South Texas (Rio Grande Valley), performed his undergraduate and veterinary education at Texas A&M University. He then pursued an additional 3-year surgical residency in large animal surgery at Auburn University, following a 1-year internship in Littleton, Colorado.
Dr. Harper returned to the Hill Country and became board certified in large animal surgery in 2009. After his return to the area, Dr. Harper recognized the need for small and large animal veterinarians to have additional services offered in-house for their clients. He then pursued additional training in select small animal surgical procedures and is now available to serve our clients in this area.
Dr. Stephanie Lisciandro
DVM
Dr. Stephanie Lisciandro is a veterinary internist who routinely consults for our practice remotely. She is board certified by the American College of Veterinary Internal Medicine. Dr. Lisciandro graduated from the College of Veterinary Medicine at Texas A&M University in 1991. She then completed an internship and residency in small animal internal medicine at the Animal Medical Center in New York City.
After her residency, Dr. Lisciandro remained on staff at the Animal Medical Center for 2 years as a staff internist. She moved to San Antonio in 1997 and joined a referral practice. She started San Antonio Veterinary Internal Medicine Services in 2000. She currently consults for Oncura Veterinary Telemedicine as an internist/sonographer.
Dr. Lisciandro is happily married to Greg Lisciandro, also a veterinarian, who is specialized in emergency and critical care medicine.
Staff
Rosie
The Hospital Parrot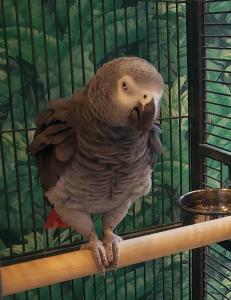 Rosie is Dr. Powers' African Grey Congo parrot. She is 25 years old. Rosie ran into a problem faced by many large parrots — they are acquired by well-meaning individuals who are attracted to larger parrots, but who don't realize the time and commitment these wonderful non-domesticated animals need. Happily, she was surrendered to Dr. Powers in her first year of life.
Not much of a talker, Rosie loves to imitate electronic noises and her favorite toy is a roll of adding paper. Be sure and say "hello" to Rosie at your next visit to Ten West! BUT keep your fingers out of her cage!
Georgia
Office Manager
Georgia has been working at Ten West Bird and Animal Hospital since March 2003. Her interest in the animal field started at a very young age. Growing up, Georgia had multiple pets, including 21 birds (variety of breeds). Her family owned multiple quarantine stations, so birds were a big part of her family. Georgia has been working in the veterinary field since 1989 (34 years!) and says, "It just keeps getting better!" Georgia had the pleasure of working with Dr. Powers from 1991-1994 at another veterinary hospital and, when the opportunity came to work for her, she was excited to join her team. Georgia is currently the office manager and welcomes all the challenges and rewarding experiences the position has to offer. Along with her 3 dogs, Daisy, Macy, and Lucy (crazy but fun additions), Georgia enjoys spending family time with her husband and son.
Roseann
Receptionist
Roseann has been working with Ten West Bird and Animal Hospital since September 2014. She has 19 years of veterinary experience. She has 3 dogs, Gabby, Nacho, Lilly and Smokie the cat! She enjoys spending time with her husband, family and loves to fish and shop!
Peggy
Receptionist
Camille
Receptionist
Ginger
Veterinary Technician Supervisor
Brenda
Veterinary Technician
Amanda
Veterinary Technician
Destiny
Veterinary Assistant
Pauline
Kennel / Veterinary Assistant
Alma
Kennel / Veterinary Assistant