Blog
Turkey Time! Hot Tips for Thanksgiving Pet Safety Success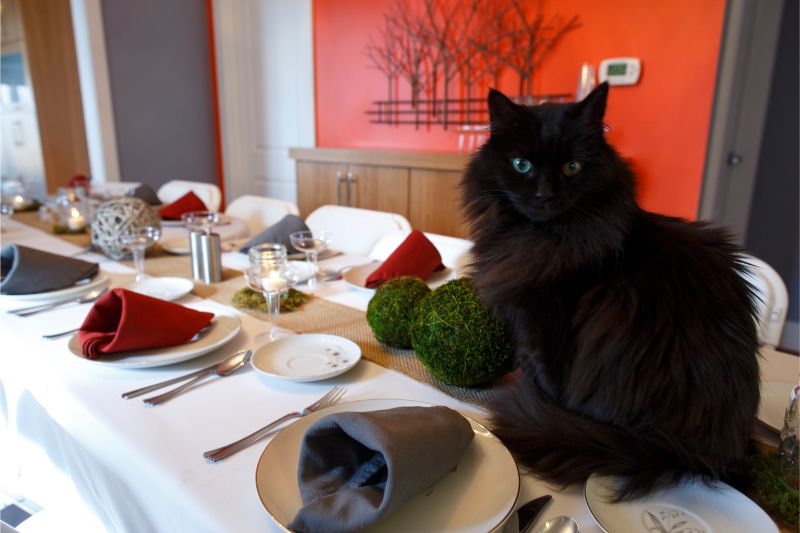 This time of year, we are simply inundated with shopping lists, raking leaves, and football games. And it's no secret that preparations for "Turkey Day" can take their toll on families across the country.
Whether you're hosting or traveling, we encourage all pet owners to take into account what Thanksgiving pet safety is all about. That way, you can enjoy the festivities while protecting your best friend from an unfortunate illness or injury.
Get Togethers
Many pets are incredibly social and laid back when it comes to strangers and routine disruptions. Others have great difficulty, and react in various ways like running away or hiding. Knowing the signs of stress and anxiety is helpful and can prevent dangerous escape attempts.

A collar and ID tags offer excellent insurance against sudden or accidental separation, but microchips are equally important. Before the holiday season, we recommend ensuring your pet is fully equipped.
Thanksgiving Pet Safety
If your pet can't handle visitors, set them up in a room away from the action. Fill their space with their favorite bedding, toys, treats, and lots of fresh water. Offer them extra exercise before and after your guests leave.

Sometimes, Thanksgiving pet safety involves pet boarding, and Ten West Bird & Animal Hospital looks forward to accommodating your best friend.
A Word on Travel
If you are traveling with your pet, consider crating them at your host's if their behavior is distracting or unpredictable. Please do not leave your pet unattended in the car for any reason!

Be sure that you have met all the requirements for safe air travel (our staff can assist you with the right documentation), such as complete vaccinations and parasite prevention.
Bountiful Table
Unfortunately, many of the foods that grace our tables during the holidays are the same ones that can cause serious pet poisonings. Keeping all food items on hard-to-reach surfaces is necessary, but keep in mind pets are opportunistic when it comes to dropped goodies and open trash cans. Always keep your bins closed, especially after the turkey carcass is disposed of.
Fine Print
Thanksgiving pet safety must include careful consideration of dangerous food and decor.
Centerpieces, decorations, cut flowers, and potted plants can be toxic. Be watchful for amaryllis, hydrangeas, ferns, lilies, pine cones, and more. Lit candles should always be avoided.
A Bellyful
To prevent a pet poisoning this Thanksgiving, keep your pet full and satisfied. Treat them to different fruits and cooked veggies such as unsweetened cranberry sauce, green beans, or pureed pumpkin (unsweetened).

A little bite of cooked white turkey meat may not hurt them, but the following Thanksgiving mainstays definitely can:

Dark, fatty meat (a cause of pancreatitis)
Bones or turkey skin
Gravy
Butter
Onions, garlic, leeks, scallions
Raisins
Grapes
Yeast dough
Baked goods containing Xylitol
Chocolate
Alcohol
The seasonal risks to your pet are many, but with a mindful and proactive approach to Thanksgiving pet safety, your pet can stay out of the emergency room and at home where they belong.

If you have further questions or concerns, please let our doctors and staff know. We're always here for you at Ten West Bird & Animal Hospital.